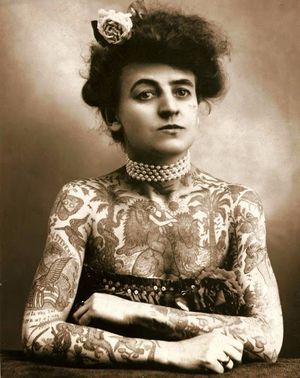 I'm fascinated by Maud Stevens Wagner, the first known female tattoo artist in the US. I have zero tattoos and no plans to get any, but I love that she bucked the constraints of the Victorian era, making her living as an acrobat and then a tattoo artist.
Ian Harvey on www.thevintagenews.com writes:
"She was the lady responsible for breaking the myths surrounding tattooed women in America. Although she lived during the Victorian era, that didn't stop her from expressing her passion for tattoos and living her life the way she wanted."
In 1904 she was working as an aerialist, acrobat, and contortionist in a traveling circus when she met her future husband Gus Wagner at the St. Louis World's Fair. He gave her her first tattoo, and soon after that she agreed to go on a date with him in exchange for a tattoo lesson. Eventually Maud was covered with Gus's tattoos and became a popular tattoo artist as well.
Among the numerous tattoos you could find on Maud's body were a monkey, butterflies, lions, horses, snakes, trees, and women.
Maud and Gus married and had a daughter, Lotteva (I think, I also saw her named Lovetta on several sites), who also became a tattoo artist (at age nine!). But here's an interesting side note from inkedcartel.com:
"Maud refused to let Gus tattoo their own daughter. This resulted in Lotteva being one of very few tattoo artists without a tattoo. Lotteva decided that if her father couldn't tattoo her, then she would not get ink by anyone else."
Historian Amy Cohen  writes:
"For the rest of their lives, Maud and Gus continued to work as heavily tattooed circus attractions and to tattoo by hand across the U.S. Even after the advent of the electric tattooing machine in 1891, both Wagners preferred to tattoo the old way, and did so until they retired."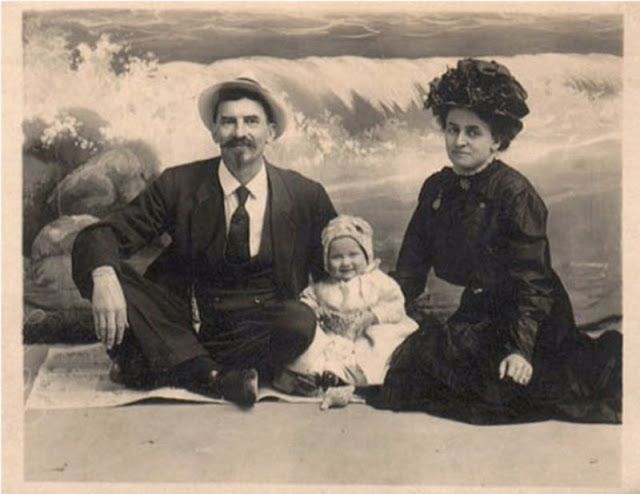 Maud, Gus, and Lotteva Wagner: though Maud and Gus were both covered with tattoos at this point, just a bit of one tattoo shows on Gus's wrist.
Here are Maud and Gus in their early days together: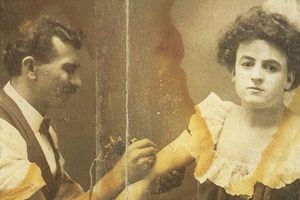 More info: